Honda TRX300 P-FW Muffler / Silencer | Musket Mufflers
Honda TRX300 P-FW Exhaust Muffler / Silencer
Suitable for: 1992 > models
Muffler Model: MH471
Header Model: MH070
High Quality exhaust mufflers / silencers from Musket Mufflers
Constructed from mild steel and painted in a matt finish heat proof paint and baked for a longer life.
Share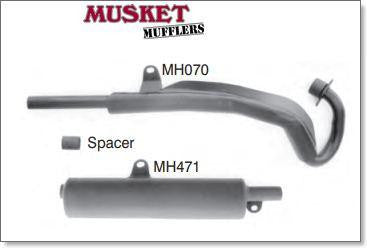 Product Information
We have an original sample here at Musket.
At Musket Mufflers, we offer a 100% Guaranteed Fit and fast delivery to ensure you get your parts in a timely manner!
When you call to order, please use the Muffler Model Number above to ensure we can supply you the correct item.
This muffler is covered by our 2 year warranty against material defects, fatigue and cracking under normal usage.
The warranty does not cover any external forces that may quickly rot the steel, such as cow excrement and/or exposure to sea salt, or any other chemical or natural corrosive substance.
You can read our Warranty page for more information.